---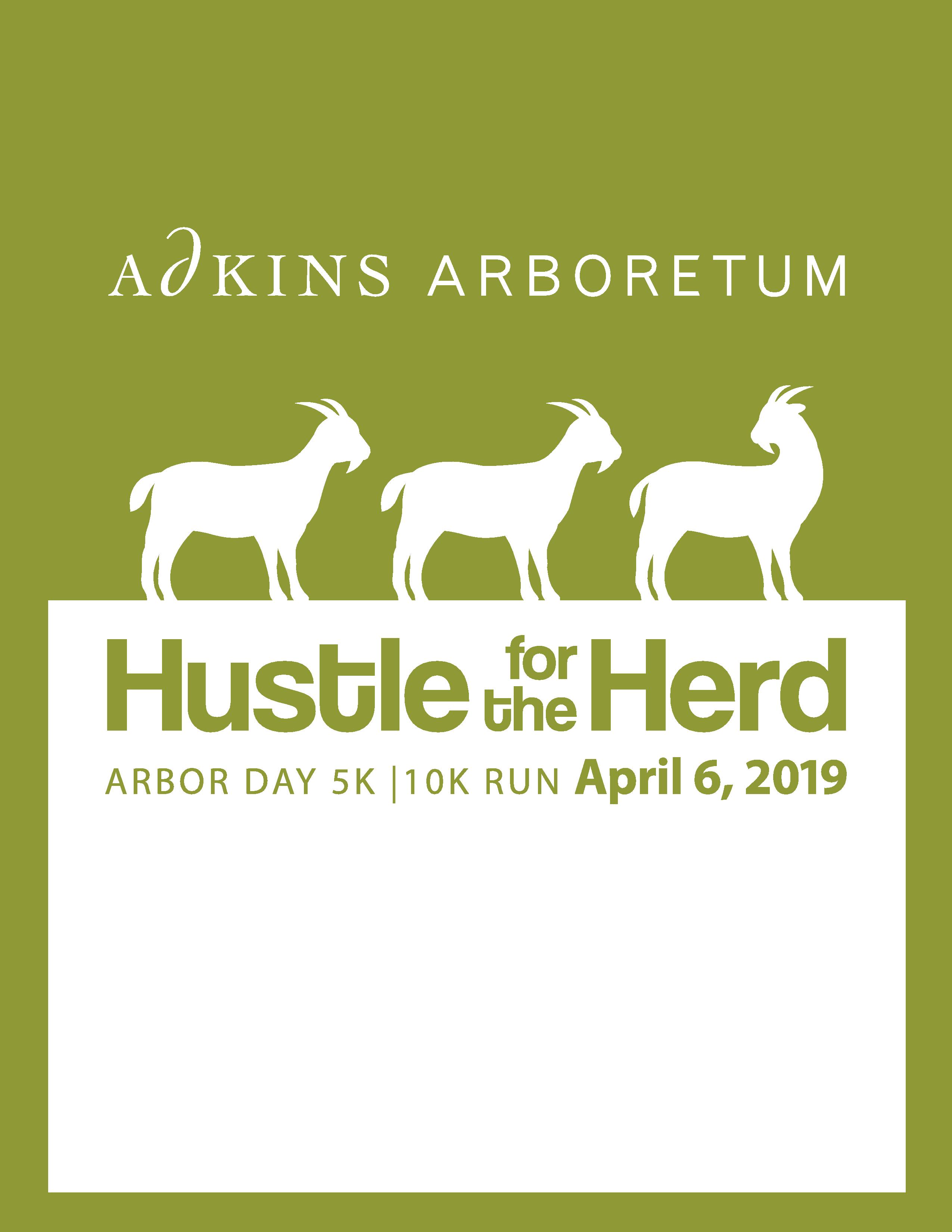 SATURDAY, APRIL 6, rain or shine
Register here for the FREE One-Mile Family Fun Run/Walk and/or the Healthy Kids' Dash.

Click here to register for the Arbor Day 5K & 10K runs.
Check-in and day-of registration begin at 8 a.m. The Kids' Dash takes place at 8:50 a.m.; the Fun Run/Walk is at 9:10 a.m.
The One-Mile Family Fun Run/Walk and hte Healthy Kids' Dash take place concurrent with the Arbor Day 5K and 10K runs. All proceeds benefit the Arboretum's goat herd, which is used for targeted grazing of invasive plants.

The event offers a 5K Run/Walk, a 10K Run, and a one-mile Family Fun Run/Walk. Races begin with a Healthy Kids' Dash at 8:50 a.m. Participants will pass the Arboretum's goat herd on the cross-country course plotted along the Arboretum's network of scenic, easily navigable paths. Post-race festivities include music, a "green" medal ceremony, and a native tree raffle. Fun Run and Kids' Dash participants may purchase a T-shirt (see design above) for $10. Registration forms are also available at the Arboretum's front desk.
Chip timing provided by Bluepoint Race Management.

The One-Mile Run Run/Walk and Healthy Kids' Dash are free.

This event is generously sponsored by Bay Imprint.
______________________________________________________________________________

WAIVER AND RELEASE OF LIABILITY: By registering, I acknowledge that running/walking or rolling (wheelchair) in a road race is a potentially hazardous activity. I should not enter and run/walk unless I am medically able and properly trained. I assume all risks associated with running/walking this event including, but not limited to, falls, contact with other participants, the effects of the weather, including high heat and/or humidity, extreme cold, the conditions of the road and traffic on the course, all such risks being known and appreciated by me. Having read this waiver and knowing these facts, and, in consideration of your accepting my entry to participate in the Arbor Day 5K Run/Walk, I, for myself and anyone entitled to act on my behalf, waive and release Adkins Arboretum and all sponsors, their representatives and successors from all claims or liabilities of any kind arising out of my participation in this event even though that liability may arise out of negligence or carelessness on the part of the persons named in this waiver. I hereby give my permission to the event organizers and sponsors to use my name and/or picture in any publication, broadcast, telecast or other account of this event without limitation or obligation of further compensation thereof. I certify that I have read this waiver and release and fully understand its significance. I fully understand that my entry fee is non-refundable or transferable.